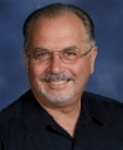 Pastor Bill Cate
We live our lives at the intersection of the Cross where we exist in a horizontal relationship with our fellow human beings and in a vertical relationship with our Creator God. At the center of that Cross is Christ, our Mediator, Savior and Brother. We were permanently connected by the Word of God in these dual relationships when Jesus said, "You shall love the Lord your God with all your heart and with all your soul and with all your mind. This is the great and first commandment. And a second is like it: You shall love your neighbor as yourself" (Matthew 22:37-39).
These relationships are expressed through the purpose statement of First Lutheran Church where we believe we are here to "Receive and Share Christ's Embrace." We receive the embrace of Christ, His unconditional love, in the vertical relationship each time we turn to the Word of God where He reveals Himself to us. We receive His embrace as we gather together in worship where we confess our failures to live up to His standards and receive His forgiveness in the words of absolution: "You are forgiven of all your sins…" We receive His embrace when we gather to partake of the Body and Blood of Christ in the bread and the wine in the Lord's Supper, given by Him for the forgiveness of sins.

We share Christ's embrace in our horizontal relationships when we minister to each other in acts of kindness and service. Such sharing takes many forms: providing a ride to the doctor for an ailing friend, taking meals to a shut-in, packing boxes for our troops, building a home with Habitat for Humanity, greeting someone with a warm smile when they come to worship, and the list goes on. "Life Together" is what 20th Century theologian and martyr for the Christian faith Dietrich Bonhoeffer called it. Living in a community where we serve our God by serving each other.

As you walk your spiritual journey, you can be sure that there is a place for you at First Lutheran Church, where we live together as a caring community of people who encourage and embrace each other along the way.
(Click the Facebook icon below to go to our full page.)